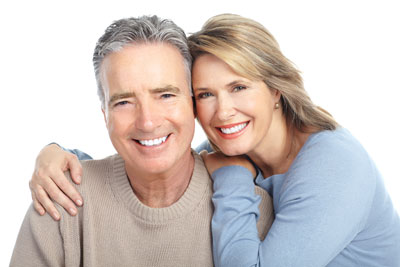 Having missing teeth as an adult isn't as uncommon as you might think. According to the American Dental Association, the average adult between the ages of 24 and 64 has three or more decayed, damaged or missing teeth.  Dr. Wolfe offers several different treatments for missing teeth because it is important to your overall health to get them treated.
In addition to looking unappealing, missing teeth can cause functional issues and pain as well.  Gaps in your teeth can cause drifting and changing your bite, which can lead to soreness of the jaw and excessive wear to your remaining teeth.  Without the root of your tooth holding its place in your jaw, the jaw bone can begin to deteriorate where the bone was.  You could also be at higher risk for gum disease since a missing tooth leaves more exposed gum tissue.
Summit Smiles can treat missing teeth with a wide variety of options, including:
Dentures: Full or partial dentures sit in the mouth, over the gums to replace missing teeth so you can regain proper eating and speaking functions.
Bridges: Dr. Wolfe creates dental bridges from porcelain or metal, and attaches them to the teeth adjoining a gap in your smile.  You'll never know there was ever a space!
Dental Implants: A dental implant provides permanent tooth replacement that allows a patient to floss, chew, function and maintain the look and feel of a natural tooth. So, call Summit Smiles Dental conveniently located at the Southlands in Aurora, CO to schedule a consultation with Dr. Wolfe today, so you can get your smile back.